Party Flag
The flag of the Party is a fourteen point yellow star on a blue background. To obtain the colour code of MCA flag, please click here.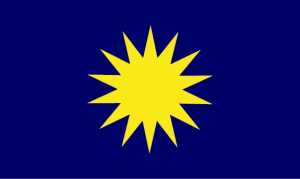 Party Anthem
To listen to the party song, please click here.
Ma Hua Dang Ge / MCA Anthem Lyrics
马华是民族先锋
Ma Hua shi min zu xian feng
我们是国家栋梁
Wo men shi guo jia dong liang
煌煌的党训在维护宪法民主自由
Huang huang de dang xun zai wei hu xian fa min zhu zi you
爱国的天职更鼓舞
Ai guo de tian zhi geng gu wu
我们共同奋勇前进
Wo men gong tong fen yong qian jin
同心协力 刻苦坚勒
Tong xin xie li ke ku jian ren
披荆斩棘 团结一致
Pi jing zhan ji tuan jie yi zhi
朝向这神圣目标
Chao xiang zhe shen sheng mu biao
争取公平社会实现
Zheng qu gong ping she hui shi xian
Party Pledge
We the MCA members, Pledge:
1.            To serve Our Party and Country with Loyalty, To Develop a Just Society;
2.            To Uphold the Federal Constitution and To Protect Democratic Freedoms;
3.            To Adhere to Party Discipline, and To Uphold MCA's Honour;
4.            To Obey Party Leaders and To Pursue Our Party's Direction;
5.            To Respect and Love for Our Comrades, and To Fortify Unity;
6.            To Commit towards Concerted Actions to Propagate Our Glorious Culture and Traditions;
7.            To Be Indomitable in the Implementation of Our Political Objectives; and,
8.            Together, To Whole-heartedly Promote National Unity.